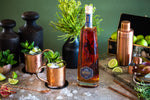 A refreshing gin twist on a classic cocktail. Flavourful ginger spice enhanced by bright fynbos and piney juniper flavours lifted with fresh lime. Simply Delicious!
 INGREDIENTS
50ml Mirari Amber Gin
15ml lime juice 
4-6 lime wedges
2 mint sprigs (to garnish)
Ginger Beer
METHOD
Add Mirari Gin, lime juice, and two lime wedges into a copper mug.
Fill the glass with crushed ice, and gently churn.
Add 2 lime wedges.
Top with more crushed ice and ginger beer.
Gently stir.
Garnish with mint and remaining lime wedges.
 TIPS
- You can use any of our gins if our Amber isn't within reach.
- To make your own crushed ice, take your frozen ice cubes, wrap them in a clean linen towel, and gently crush using a mallet, heavy saucepan, or other weighty      kitchen implement.
- Ice cubes can be used instead of crushed ice.
- For a variation, and extra kick, add a slice or two of fresh ginger.
- Using a copper mug, not only looks great, but also keeps the drink extra chilled, but any glass will work if you don't have a copper mug on hand!
Happy Sipping!