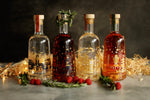 Celebrate Christmas in July with our vibrant Raspberry Gin Fizz created by Miss Lucky Pont! This delightful cocktail, garnished with festive mini wreaths, combines the sweet allure of raspberries with a tangy lime hint. Shake it up like a pro mixologist and enjoy the refreshingly sweet and tart flavours of this visual treat featuring the sparkling Mirari Gin. Let the mid-year holiday merriment begin!
Festive Raspberry Gin Fizz
INGREDIENTS
30 ml Mirari Gin
15 ml simple raspberry syrup (see recipe below)
15 ml / fresh lime juice
8 Fresh raspberries
1 egg white
Ice
Rosemary and a few extra raspberries for garnish
METHOD
Muddle together the Mirari Gin and fresh raspberries in a cocktail shaker.
Add lime juice, raspberry syrup, and egg white. Vigorously shake everything without ice for about 20 seconds to meld the ingredients with the egg white.
Add a handful of ice cubes and shake well for at least 30 seconds.
Strain the cocktail into a beautiful glass. Garnish with raspberries and a mini rosemary wreath, crafted by twisting a piece of rosemary into a circle and securing with a glue gun or prestik.
Raspberry Syrup
INGREDIENTS
1 cup white sugar
½ cup water
½ cup fresh raspberries
METHOD
Dissolve the sugar in water on medium heat in a medium pot.
Add the raspberries and cook for another 8 mins, breaking down the berries with a wooden spoon.
Strain the syrup into a jar using a fine mesh sieve. Press down with a spatula to push through the syrup, leaving the pips behind. Store in the fridge for up to 3 weeks.
Toast to the joy of Christmas in July and enjoy the wonderful symphony of flavours. Here's to a memorable and merry culinary experience. Cheers!