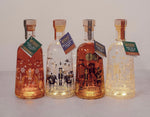 Misha Levin, one of our favourite digital creators, shared her festive GINspiration with 3 easy garnish ideas for our Mirari Snow Globe Gins and we simply can't get enough!
Christmas Barrel Snow Globe Gin
Fresh pear slices and a sprig of thyme. 
A patridge in a pear G&T, this is a must try this festive season! Our Christmas Barrel Gin won Gin of the year at the esteemed Michelangelo awards and this garnish combination is delicious!
Festive Orange Snow Globe Gin
Candied citrus slices.
You can easily make these dehydrated garnishes yourself at home. Thinly slice your favourite citrus, place on some baking paper and pop into the oven on low heat for a few hours. The baking process releases delicious candied notes and whats even better is that you can store these in an airtight container and they will last over a month.
Edible flower ice
Add some edible flowers to your ice tray, half fill with water and freeze, then top up with more water and freeze again (to ensure the flowers stay in the middle of the ice blocks and don't float the top.) A trick to get your ice to freeze clear, boil your water first and let it cool completely.