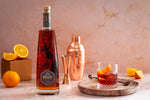 A cocktail that's over 100 years old, this drink has stood the test of time. Easy to make and refreshingly bitter, this South African twist on a classic is a must try. 
INGREDIENTS
25ml Mirari® African Botanics Gin
25ml Campari
25ml Sweet Vermouth
Orange Twist (to garnish)
METHOD
Fill a mixing glass with ice.
Add Mirari® Gin, Campari and Sweet Vermouth  to the mixing glass
Stir until well chilled
Strain into a tumbler filled with large ice cubes
Garnish with an orange peel
 TIPS
- You can use any of our gins if our African Botanics Gin isn't within reach.
- For a variation and a longer drink top with tonic or soda water.
- For an extra South African taste, replace the sweet vermouth with Caperitif 
Happy Sipping!