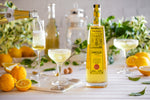 Summer in a glass, this sensational and easy serve combines all of our favourite flavours. Best enjoyed with your feet up while lapping up the sunshine. 
 INGREDIENTS
75ml Gincello®
125ml MCC
Lemon Zest (to garnish)
METHOD
Add Gincello®, lemon juice into a chilled flute 
Top with MCC.
Gently lift with a stirrer to combine.
Garnish with lemon zest.
 TIPS
- For a variation and a longer drink use a large red wine glass, top with ice add 125ml MCC and fill with soda water.
- Use a long spoon to gently combine the drink if you don't have a bar stirrer on hand!
Cheers!