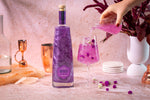 Immerse yourself in the captivating allure of our Blossom Brilliance, a radiant gin & tonic cocktail featuring our Mirari Wild Blossom Shimmer Gin. This elegant cocktail transforms the classic G&T with a refreshing dose of raspberry tonic, garnished with edible flowers for a sublime, picturesque touch.
INGREDIENTS
50 ml Mirari Wild Blossom Shimmer Gin
150 ml raspberry tonic
Edible flowers for garnish
Ice
METHOD
Fill a glass with ice cubes.
Add Mirari Wild Blossom Shimmer Gin.
Top with the raspberry tonic.
Stir gently to combine.
Garnish with a sprinkling of beautiful edible flowers.
Embark on a remarkable journey with the floral nuances of our Wild Blossom Shimmer Gin blending seamlessly with the fruity undertones of raspberry tonic. This delightful cocktail adds a splash of elegance to any occasion, making each sip a memorable delight.
Experience the magic of our Blossom Brilliance, and let its luminescent charm transport you to a world of vibrant floral beauty. Here's to experiences as radiant as our gin. Cheers!