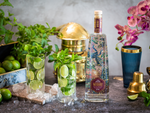 The classic Cuban cocktail with a delicious gin twist!
The Celebration Mojito is a flavourful marriage between gin, mint and limes.
INGREDIENTS
50ml Mirari Celebration Gin
15ml lime juice
20ml sugar syrup
6-8 lime wedges
8-10 mint leaves (plus more to garnish)
Soda water
METHOD
Add Mirari Gin, lime juice, sugar syrup and mint leaves into a highball glass.
Half fill the glass with crushed ice, and gently churn.
Add lime wedges.
Top with more crushed ice and soda water.
Garnish with mint.
SUGAR SYRUP 
To make the simple syrup: Combine equal parts sugar and water in a small saucepan. Warm over medium heat, whisking occasionally, just until the sugar has melted into the water. Remove from heat. Allow to cool. Store in fridge for up to 4 weeks.
 TIPS
- You can use any of our gins if our Celebration isn't within reach.
- To make your own crushed ice, take your frozen ice cubes, wrap them in a clean linen towel, and gently crush using a mallet, heavy saucepan, or other weighty kitchen implement.
- For a variation, add 20ml of apple juice, and garnish with apple wedges.
 Sit back and enjoy!