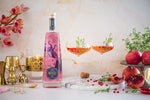 This classic cocktail was created over 100 years ago, and is the perfect serve to celebrate any occasion, with champagne lending the gin an even more elegant feel. The Pink French 75 is sparkling, effervescent and deliciously sippable.
INGREDIENTS
35ml Mirari Pink Gin
20ml lemon juice (freshly squeezed)
10ml simple syrup 
Rose' Champagne
Pomegranate rubies to garnish
METHOD
Combine the gin, lemon juice and simple syrup into a cocktail shaker.
Top the shaker with ice.
Shake well.
Strain into a coupe or champagne flute.
Top with Champagne.
Garnish with pomegranate rubies.
SIMPLE SYRUP 
To make the simple syrup: Combine equal parts sugar and water in a small saucepan. Warm over medium heat, whisking occasionally, just until the sugar has melted into the water. Remove from heat. Allow to cool. Store in fridge for up to 4 weeks.
 TIPS
- You can use any of our gins if our Pink isn't within reach.
- You can use any Champagne, but considering that most of the drink is made up with bubbly, a quality Champagne will make a difference.
- For a variation, use grapefruit juice instead of lemon juice.
- If you don't have a cocktail shaker, you can use a jam jar with a lid.
Cheers!