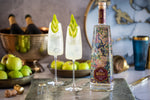 This sensationally sippable gin and prosecco serve is a real crowd pleaser. Often reserved for sunny days, this cocktail also makes the perfect drink for any celebration. 
 INGREDIENTS
50ml Mirari Celebration Gin
25ml lemon juice (freshly squeezed)
25ml sugar syrup 
Prosecco 
Apple wedges (to garnish)
METHOD
Add Mirari Gin, lemon juice and sugar syrup into a chilled flute and gently stir.
Top with prosecco.
Gently lift with a stirrer to combine.
Garnish with apple wedges.
SUGAR SYRUP 
To make the simple syrup: Combine equal parts sugar and water in a small saucepan. Warm over medium heat, whisking occasionally, just until the sugar has melted into the water. Remove from heat. Allow to cool. Store in fridge for up to 4 weeks.
 TIPS
- You can use any of our gins if our Celebration Gin isn't within reach.
- For a variation and a longer drink use a large red wine glass, top with ice and follow the recipe.
- Use a long spoon to gently combine the drink if you don't have a bar stirrer on hand!
Cheers!