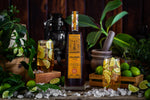 Refreshing yet chocolately, with its warm ginger and toasty chocolate notes, this crowd-pleaser is the perfect warming sip, crafted with our Cocoa Rum Reserve.

INGREDIENTS
50ml Time Anchor Cocoa Rum Reserve 
15ml lime juice (freshly squeezed)
6-8 lime wedges (to garnish)
Ginger beer
METHOD
Add Cocoa Rum reserve and lime into a highball glass.
Half fill the glass with ice and stir.
Add lime wedges.
Top with more ice and ginger beer.
 Happy Sipping!