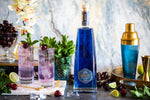 The mojito but with a delicious gin twist!
 Classic and colourful, refreshing and sweet this is the perfect sip on a hot summers day. 
INGREDIENTS
60ml Mirari Blue Gin
15ml lemon juice
20ml sugar syrup
8-10 mint leaves (plus more to garnish)
Soda water
Cherries
METHOD
Add Mirari Gin, lemon juice, sugar syrup and mint leaves into a cocktail shaker.
Top the shaker with ice.
Shake well.
Strain into a chilled highball glass, filled with ice.
Top with soda water.
Garnish with mint and optional cherries.
SIMPLE SYRUP 
To make the simple syrup: Combine equal parts sugar and water in a small saucepan. Warm over medium heat, whisking occasionally, just until the sugar has melted into the water. Remove from heat. Allow to cool. Store in fridge for up to 4 weeks.
 TIPS
- You can use any of our gins if our blue isn't within reach.
- Freshly squeezed juice is best.
- For a variation you can use lemon juice instead of lemon juice.
- If you don't have a cocktail shaker, you can use a jam jar with a lid.
Cheers!