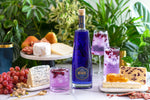 Indulge in the vibrant and refreshing Mirari Blue G&T, garnished with pomegranate rubies, perfectly paired with a selection of artisanal cheeses, fresh grapes, crunchy crackers, and succulent pears. This versatile pairing is an ideal choice for an elegant gathering or a casual afternoon treat.
Mirari Blue G&T
 INGREDIENTS
50ml Mirari Blue Orient Spiced Gin
200ml premium tonic water
Pomegranate rubies (to garnish)
Ice cubes
 METHOD
Fill a glass with ice cubes.
Add Mirari Blue Gin.
Top with chilled tonic water.
Lift with a drink stirrer or long spoon from the bottom to gently combine.
Garnish with a generous sprinkle of pomegranate rubies.
 A Selection of Cheeses, Grapes, Crackers, and Pears
 INGREDIENTS
Assortment of your favourite cheeses (such as Brie, Gouda, Blue Cheese, and Cheddar, Goats' Cheese, Camembert)
A bunch of fresh red and green grapes
A selection of crackers
2 ripe pears, sliced
METHOD
Arrange the cheeses, grapes, crackers, and pear slices on a large serving platter or a wooden cheese board.
Feel free to add other elements like a variety of nuts, dried fruits, or honey for extra flavour and texture.
Serve the Mirari Blue G&T alongside your cheese selection, and enjoy the perfect harmony of flavour's. The crispness of the gin and tonic beautifully complements the creamy, salty, and sweet flavours of the cheese board.
Here's to a memorable culinary experience!
Cheers!