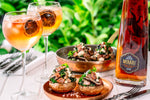 Savour the unique combination of robust flavours with our Bacon, Feta & Spinach Stuffed Portabellos, paired perfectly with a refreshing Mirari Amber Gin & Tonic. This rich and delectable dish, accompanied by the sweet honey and citrus notes of the gin, brings an exquisite balance of tastes that's sure to impress at your next gathering.
Bacon, Feta & Spinach Stuffed Portobello's
INGREDIENTS
8 Portabello Mushrooms
250g Streaky Bacon
300g Baby Spinach
2 tsp Butter
200g Feta Cheese
40g Rocket
1 Tbsp Oregano, finely chopped
Olive Oil
Sea Salt Flakes
Freshly Ground Black Pepper
METHOD
1. Steam the Portabello mushrooms on a wire rack fitted into a large pot for about 5 minutes. Allow them to cool and drain off excess liquid on a cooling rack.
2. Dice the bacon chunkily and fry until crisped to perfection. Infuse with butter until it achieves a luscious deep golden hue. Generously season with a healthy grind of black pepper.
3. Sauté the spinach in the remaining bacon fat, seasoned to taste with salt and pepper, and let cool slightly.
4. Combine the crispy bacon, sautéed spinach, torn fresh rocket, and finely chopped oregano in a large mixing bowl. Introduce the crumbled feta, and give the mixture a final toss.
5. Pile the mixture generously onto the Portabello mushrooms, letting the flavours soak in, and serve immediately.
Mirari Amber Gin & Tonic
INGREDIENTS 
50ml Mirari Amber Gin
Dehydrated Orange Slices
150ml Tonic Water
A few dashes of Bitters
METHOD
Fill a glass with ice and add the dehydrated orange slices.
Pour over the Mirari Amber Gin, letting its honey and orange notes come alive.
Top up with tonic water, finishing with a few dashes of bitters
Pairing Notes
The creamy and smoky flavours of the stuffed Portabellos are complemented by the sweet honey and orange notes of the Mirari Amber Gin. The richness of the dish is perfectly balanced by the gin's refreshing and complex notes of citrus and rose. Enjoy this harmonious pairing for an unforgettable gastronomical experience.
Here's to a memorable culinary journey - Cheers!