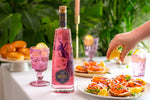 Indulge in the delightful pairing of our elegant Mirari Pink G&T, garnished with a lemon wheel, perfectly complemented by Cocktail Salmon & Cream Cheese Bagels. This easy yet sophisticated combination is an ideal choice for brunch, parties, or a casual meal.
Mirari Pink G&T
 INGREDIENTS
50ml Mirari Pink Damask Rose GinGin
200ml Premium tonic water
Lemon (to garnish)
Ice
METHOD
Fill a glass with ice
Add Mirari Pink Gin
Top with chilled tonic water
Lift with a drink stirrer or long spoon from the bottom to gently combine
Garnish with a lemon wheel
 Cocktail Salmon & Cream Cheese Bagels
 INGREDIENTS (Serves 4)
4 mini bagels, halved
200g smoked salmon
200g cream cheese
Fresh dill (to garnish)
Capers (to garnish)
1 red onion, thinly sliced
Lemon wedges, for serving
METHOD
Toast the bagel halves until they are lightly golden and crispy.
Spread a generous layer of cream cheese onto each toasted bagel half.
Layer the smoked salmon on top of the cream cheese.
Garnish with fresh dill, capers, and thinly sliced red onion.
Serve the bagels with a wedge of lemon on the side.
Serve the Mirari Pink G&T alongside the Cocktail Salmon & Cream Cheese Bagels, and savour the perfect harmony of flavour's.
Here's to a delightful culinary experience!
Cheers!