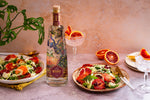 Indulge in this elegant and vibrant Blood Orange, Burrata & Fennel, Rocket Salad, perfectly paired with our luxurious Mirari 23ct Gold Celebration Gin in a classic G&T. This exquisite recipe is an ideal choice for celebratory gathering or a casual meal.

INGREDIENTS
4 blood oranges, peeled and cut into wheels
2 small fennel bulbs, thinly sliced ( you can use the bulb and the fronds)
250g Burrata cheese, drained and torn into pieces
100g Pomegranate rubies
40g Rocket
1/4 cup extra-virgin olive oil
1 tbsp honey
1 tbsp freshly squeezed lemon juice
Salt and freshly ground black pepper, to taste
METHOD
On a large serving platter, arrange the rocket leaves, blood orange and fennel slices.
Scatter the burrata pieces over the top.
Garnish the salad with the pomegranate rubies, adding a burst of colour and texture.
In a small bowl, whisk together the olive oil, honey, lemon juice, salt, and black pepper and drizzle the dressing evenly over the salad just before serving.
INGREDIENTS (for the G&T)
50ml Mirari 23ct Gold Celebration Gin
150ml Premium tonic water
Blood Orange (to garnish)
Ice
METHOD (for the G&T)
Fill a glass with ice
Add Mirari® 23ct Gold Celebration Gin
Top with chilled tonic water
Lift with a drink stirrer or long spoon from the bottom to gently combine.
Garnish with a wedge of blood orange
Serve the Mirari 23ct Gold Celebration G&T's alongside the Blood Orange, Burrata & Fennel Salad, and enjoy the perfect combination of flavour's.
Cheers to a celebration to remember!