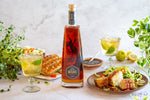 Indulge in a refreshing Mirari Amber & Lime Gin and Tonic perfectly paired with a sweet and savoury Sticky Honey Glazed Pork Belly and a fresh Zoodle Salad. This dish is a splendid harmony of flavours that will take your taste buds on a delightful journey.
Mirari Amber & Lime G&T
 INGREDIENTS
50ml Mirari Amber African Botanics Gin
200ml Premium tonic water
Lime (to garnish)
Ice
METHOD
Fill a glass with ice
Add Mirari® Amber African Botanics Gin
Squeeze two wedges of lime into the glass and drop them in
Top with chilled tonic water
Lift with a drink stirrer or long spoon from the bottom to gently combine
Garnish with lime wedges
Sticky Honey Glazed Pork Belly
INGREDIENTS (Serves 4)
1 kg pork belly, skin scored
Salt and pepper
2 tablespoons olive oil
4 cloves garlic, minced
1/4 cup honey
1/4 cup soy sauce
1 tablespoon apple cider vinegar
1 teaspoon red chili flakes
METHOD
Preheat your oven to 200°C. Season the pork belly with salt and pepper, and score the skin.
Heat the olive oil in a heavy, oven-safe pan over medium-high heat. Add the pork belly, skin-side down, and cook until it's nicely browned.
Flip the pork belly and add the minced garlic, cooking until fragrant.
In a bowl, whisk together the honey, soy sauce, apple cider vinegar, and chili flakes. Pour ½ over the pork belly.
Transfer the pan to the oven and roast for about 40 minutes, or until the pork is tender and the glaze is sticky and caramelised. ½ way through, baste the pork with the remaining glaze.
Zoodle Salad
 INGREDIENTS
2 medium zucchinis
1 red bell pepper
1 yellow bell pepper
1/4 cup extra virgin olive oil
1/4 cup fresh lime juice
1 tbsp honey
Salt and pepper, to taste
METHOD
Use a spiralizer to turn the zucchinis into noodles, or "zoodles".
In a large bowl, combine the zoodles and sliced bell peppers.
In a small bowl, whisk together the lime juice, olive oil, and honey. Season with salt and pepper to taste. Drizzle the dressing over the salad and toss to combine.
 Serve the Mirari Amber & Lime G&T alongside the Sticky Honey Glazed Pork Belly & Zoodle Salad, and enjoy the perfect combination of flavour's.
 Here's to a meal to remember!